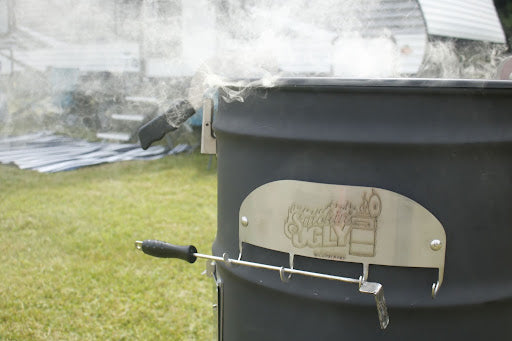 How to Build an Ugly Drum Smoker & More
Building your own custom ugly drum smoker (UDS) is a one-of-a-kind experience. When you're done, there's no question the drum smoker is indeed yours, and it's ready to help you make your mark in the world of smoked meats and beyond. 
Whether you're starting from scratch, making an upgrade, or simply exploring how to build an ugly drum smoker, we're here to help! 
With our robust and American-made ugly drum smoker products, it's easy to create a meat smoker that delivers on multiple fronts and elevates your BBQ game. 
Ugly Drum Smoker Kits & Accessories | Installation Videos
Charcoal Basket Kit
The easy-to-assemble charcoal basket has an ash pan attached, making cleanup fast and relatively mess free.
Pizza Oven Kit
Turn your ugly drum smoker into a wood-fired pizza oven. Our pizza kit has what you need to have a pizzeria at home
Charcoal Chute Kit
The  charcoal chute is designed to easily add charcoal or wood to your drum smoker hassle-free
Grill Gate Water Pan Holder
This stainless steel water pan shelf is designed to attach to our grill grate and fits a variety of drum smokers. Plus, it doubles as a heat deflector
Inlet and exhaust vent
This stainless steel inlet vent helps you regulate temperature  with precisions and cook your food to perfection
Hinge and Latch Kit
The Drum Smoker latch is a safe and convenient way to secure your lid, whether it's from small hands or a big gust of wind 
Prepping a Drum Smoker
Step into the world of ugly drum smoking on the right foot. Here's what you need to do to get your ugly drum smoker ready for action