After spending a large portion of the past two years at home, it's no surprise that outdoor living spaces have exploded in popularity, with outdoor kitchens among the most popular additions. 
Where homeowners used to flip burgers, they're now adding smokers, stoves, refrigerators, wine coolers, and more to their outdoor setup. 
Below we've outlined three of the top outdoor kitchen trends being seen in 2022: 


Outdoor Kitchen Trends We're Seeing in 2022
From traditional grills and picnic tables to full outdoor kitchen setups with integrated pizza ovens, smokers, and flip-up countertops, the outdoor kitchen space has seen several improvements in the available equipment, accessories, and appliances.
 Three of the most notable trends include: 
Integrated motion control
Pass-through bars and windows
Hidden cabinets and refrigerators
From space-saving, functional technology to reliable equipment, read on to see how 2022 is shaping up to be the year of the outdoor kitchen:


Integrated Motion Control
Where traditional grills were once popular, homeowners are beginning to integrate pizza ovens, smokers, cabinets, wine coolers, and more. But custom cabinetry, countertops, and appliances can get heavy. Very heavy. 
Counterbalance hinges increase ease of use and improve the flexibility of products. Making it possible to incorporate a variety of unique features into an outdoor kitchen.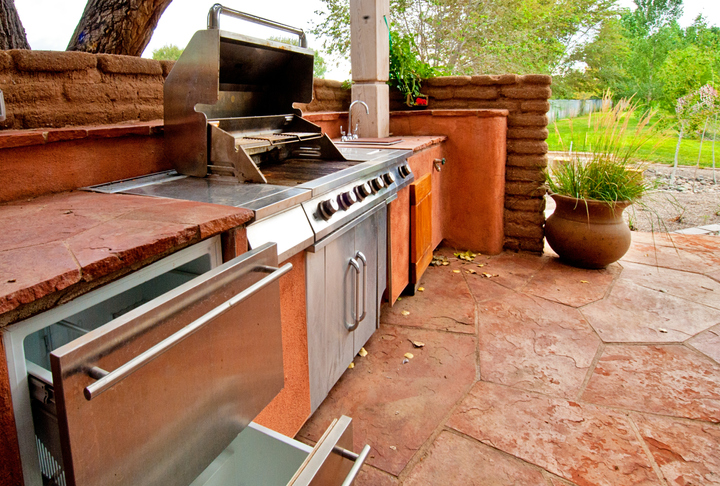 Counterbalances can convert a beverage bucket into a table, turn a countertop into a passthrough, and it opens up the possibilities for compact designs including:
Freezers
Ovens
Wine coolers
Upgrading the appliances and main cabinets to counterbalance and motion control hinges improves the ergonomics and efficiency of your outdoor kitchen while also making it easier for those with disabilities to open and close both appliances and cabinets. 
Where style meets safety, integrated motion control or counterbalance hinges in your outdoor kitchen can:
Support the lid/door weight while you walk away
Reduce the effort needed to lift heavy lids and open doors
Close on their own without slamming the lid/door
Provide a smooth open/close motion that gives the feel of luxury
But counterbalance hinges have use in outdoor living spaces beyond the traditional appliances and cabinetry. For some, counterbalance hinges are integrated into pass-through bars and breakfast windows. 


Pass-Through Bars and Windows
Pass-through bars (sometimes referred to as flip-up counters) have grown in popularity amongst those with smaller backyards because of their ability to allow for more counter or dining space when you need it, and flip-up and out of the way when not. 
Creating an outdoor kitchen space may not seem feasible to those with limited space, however, with pass-through bars, homeowners with smaller backyards are able to fully utilize their cooking space without sacrificing living space when not in use. 
However, like custom cabinetry and appliances, pass-through bars can be hard to manage due to their size and weight. Integrating counterbalance hinges allows for greater and easier control of your pass-through bar, regardless of material or size.   
For those that want a shared indoor-outdoor kitchen space, pass-through breakfast windows have become a popular option allowing homeowners to prepare food indoors or outdoors with ease. 


Hidden Cabinets and Refrigerators 
Indoors and outdoors alike, no one likes to look at bulky appliance hinges. As sleek and modern design themes grow in popularity, integrating hidden cabinetry and refrigerator hinges allows for greater freedom in a homeowner's design. 
For those with smaller backyards, integrating hidden cabinets and refrigerators can improve the outdoor kitchen's functionality and design while limiting the amount of entertaining or living space used. For high-end kitchens, integrating hidden cabinets and refrigerator hinges improves the aesthetics of the kitchen without sacrificing useability or safety. 
Hidden hinges can also be useful where outdoor kitchens may live in inclement weather for half the year. Since the hinges are enclosed and out of the element, a homeowner may find their hinges are less apt to rust or get damaged in the rain or snow. 


2022 Trends: Consult the Experts
It's clear that functional spaces are the top trends of 2022 and our lineup of motion control hinges can take a standard cabinet, bar, or appliance to the next level. 
Concentrated on increased safety, accessibility, and useability, our lineup of motion control hinges can help you upgrade your next outdoor kitchen project into a luxurious, durable and functional space.